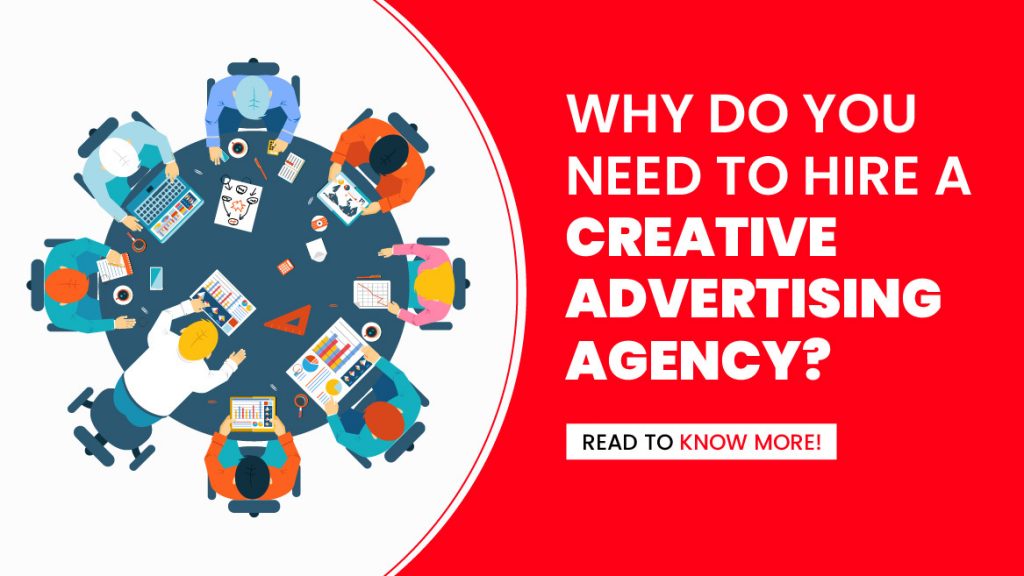 Business is competitive, and it is challenging for business owners to find strategies to grow brand
recognition. Advertising has been a support tool for business owners.
But, What about brand awareness?
How to stand out your brand in digital?
What about creative advertising agency where they fit in this game?
How are they helping brands to thrive?
This blog post will answer all your queries about why you need to hire a creative advertising
agency.
1. It Saves Your Time
When you are running a business, the most critical resource is time. Time for meetings,
contracts, approvals etc., you need a ton of time.
By hiring a creative advertising agency, you are not paying for expertise in the creative field, but
you are buying time for your business.
The creative agency will take care of all your headaches about brand building.
So, leave everything to the creative expertise to bring more value to your business in less time.
2. A New Perspective Every Time
After a while in your business, you'll understand what works for you and what doesn't, you will
become an expert.
But it would be best if you broke out from it.
It's always great to move away from usual thinking patterns and leave it to the advertising
agency to tackle it from a fresh perspective.
A fresh perspective will be an unbiased and wholly objective view of what's better for the brand.
The most important thing about the ideas is staying relevant and ahead of the competition.
So, seeing things in a better way would be a great help for your brand.
3. Better Marketing Strategy
When you approach a media-buying agency directly, you are prone to fall into the pressure trap.
Irrespective of whether a product is suitable for your business or not, they are under pressure to
sell.
Instead, a creative advertising agency will study your target audience and recommend you a perfect digital marketing strategy that works for your brand.
With this, you will have better opportunities to reach out to your potential consumers.
4. Brand Consistency
A brand is beyond its product and services. Apart from the logos and visual, each brand has its
personality and emotions it possesses.
So what happens when a brand scales over time.
If it starts putting out multiple product lines and services, it will begin slowly diverging from its
core ideals.
This inconsistency of values, image and personality, will affect brands progress.
So how do you stop that?
When you involve a creative advertising agency in the branding process, They will ensure brand
consistency within visual identity, tone of voice, personality, and much more with the various
product lines and services your business offers.
Moreover, a well-executed branding strategy with a creative advertising agency translates to
better brand awareness, trust, and authority over the long term.
So with these in mind, consumers become more confident when buying your product and
services.
5. Network
Businesses are strong with Networking!
The creative advertising agency has a strong network where they know-how to establish your
brand in a better way.
These agencies have various tie-ups in print, audio etc., so with one campaign, you can easily
reach out to your potential customers.
So reachability for a brand is essential.
Conclusion
A creative advertising agency saves your time and effortlessly bring all possible ways to reach
out to your potential consumer and develop a great ROI.
Are you looking for a creative advertising agency?
Well, we are here to help you! At RedPencil or designers and copywriters are ready to make your
brand fly high. Contact us to learn more; visit @redpenciladvertising on Instagram or call us at +91-
8197158503 to create your first-ever ad campaign.