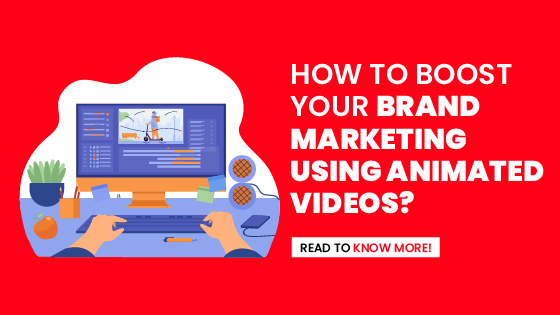 Brand marketing is changing every day. To thrive online, your brand needs to commit to the audience and establish a unique brand personality.
How can your brand establish a unique brand personality?
What strategies can be applied?
It would help if you built a brand that resonates with your audience. Your brand must show empathy towards the audience and develop trust in your brand.
But what makes your brand stand out online?
The answer is animated videos, and it evokes emotions.
How animated videos boost your brand marketing?
In this blog, we will explain how animated videos can help your brand grow online.
1. Grows Your Consumer Engagement
The Netizens follow and get engage with the content that evokes their emotions. They won't even notice if you are still following traditional ways of advertising.
So to stand out, brands need to bring new ways to promote their product and services.
The 2D animation videos turn your services and product promotions into a compelling story. It makes your consumer perceive commercial videos as entertainment.
The power of shareability adds more to it and helps spread your commercial video as a medium of engagement.
2. Builds Consumers' Trust
When your brand is giving importance to audience choice, they see you as a brand not attempting to sell but offer them an exciting experience with your product.
The 2D animated videos build this trust in your product or services; it introduces you as a creative brand that thinks outside the box, cares about its audience, and tries to give them an unforgettable impression besides your services and products.
The animated videos not only entertain but also builds the trust of the consumer in your brand.
3. It Brings New Consumers
To connect with netizens and develop your community, your brands needs to be funny and helpful.
The entertainment element in your 2D animation commercials makes them a more effective way of advertising.
The animated commercials motivate them to learn more about your brand and share your content with their close one's.
Animation videos trigger sales compared to any other content type.
Your unique animation style, cute characters and compelling story keep netizens interested in your brand.
4. Grabs The Attention
Animation ads and commercials are the best effective way to catch potential consumers among the netizens.
Today, our social media feeds are over-saturated with so much news, images, GIFs and content.
So it is challenging to stand out in the crowded online feed.
Impressive animation and an engaging storyline help your brand draw users attention. It also evokes the vivid interest of consumers in your brand.
That's why animation videos are known as the best type of advertising.
5. Communicates even complex information in few seconds
In animated videos, you can cut complex data into short and easy-to-understand scenes.
It makes your brand more user-friendly.
Imagine you can explain your brand's services and product in just a few seconds.
Conclusion
Animated videos always get the most attention and the consumer's response. The animated videos are innovative and an excellent way to increase your brand awareness, customer loyalty, and engagement in the online marketplace.
Are you looking for an animated video commercial?
Well, we are here to help you!
At RedPencil, our designers and copywriters are ready to make your brand fly high.
Contact us to learn more; visit @redpenciladvertising on Instagram or call us at +91-8197158503 to create your first-ever animated commercial.