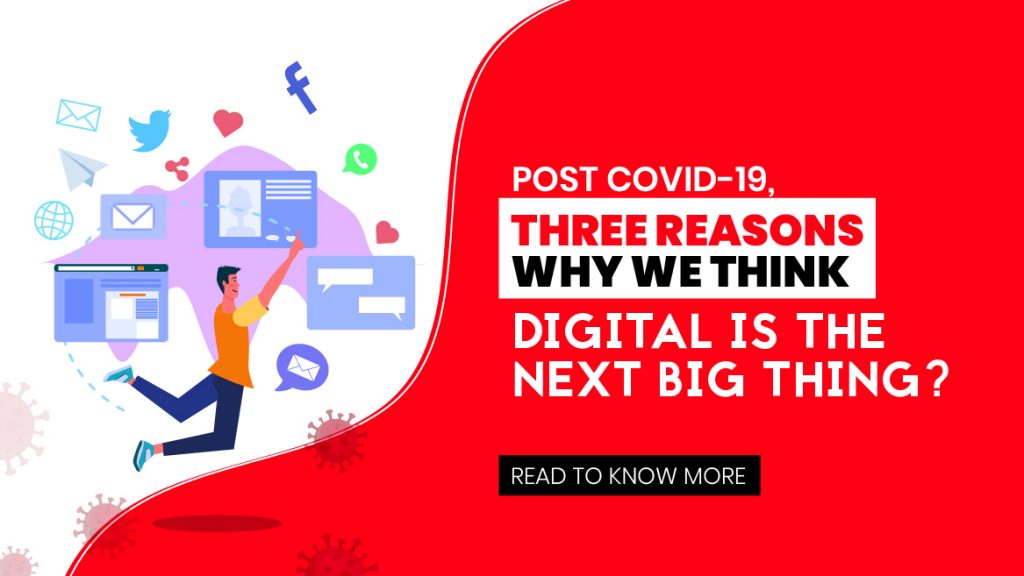 When the social media saga began, no one expected it to evolve so fast to be the platform, not just for making friends and acquaintances but be a long-term business communication medium. In this unprecedented time, the world is working from home and relying on the internet for buying groceries, food, entertainment and some businesses even accepted the new norms of digital. A family-oriented company who always believed in traditional advertising has now accepted the binge culture of going viral and following up to interactive communication surrounding the brand or product.
There has been a huge spike in the usage of Social Media as the government issued strict guidelines on any outdoor movement in lockdown. The schedules of working professional or a home maker has clearly changed. Every one of us is on social media at an average time of at least for 4 hours a day in this lockdown. It was mostly a quick shuffle between social media Apps, every 20 mins. Sometimes longer!
Here are three major pointers for your brand's communication that we thought will broaden your understanding of these unpredictable digital times and why you should consider digital advertising now more than ever.
To Grab The Customer's Attention 
The major challenge for the brands is to sustain business continuity in the lockdown and also have a healthy dialogue with potential consumers. This time, when a good number of the population is all indoors and available on the digital highway, it is a good opportunity for brands to try out new things. Try out new things in communication and spread your wings wider and reach out to the untouched target audience.
Digital Media is Budget-Friendly
The big brands have evaluated the right mix of digital and other traditional mediums to connect their respective brands to the consumer. But in this global economic situation, even the big brands have dropped the idea of advertising on mainstream mediums like Television, Newspaper, Outdoors, Radio and joined the budget-friendly league of digital media. For instance, if your brand has TVC budget with the same cost you can plan a year-long activity on Social Media. And a wider audience. Win-Win!
Control on Target Audience
Social Media advertising gives privilege to the brands as it allows you to deliver the message to your ideal consumers throughout their digital journey. It enables the brand to connect geographically and personally to the potential customer, and up-close listen to him and speak to him. No other advertising medium gives you a privilege like this.
Well, every brand is now planning for the digital transformation, maybe reading, analyzing every way-outs available on google to make the brand travel long on these digital highways. And rightly so, every brand should make the most of this opportunity to reach out to their audience and adapt the budget-friendly norm of digital media. The digital platform gives all the privilege to plan out the target audience and connect with the ideal consumer. 
For any suggestions, work or queries regarding digital advertising and strategizing, get in touch with us today!