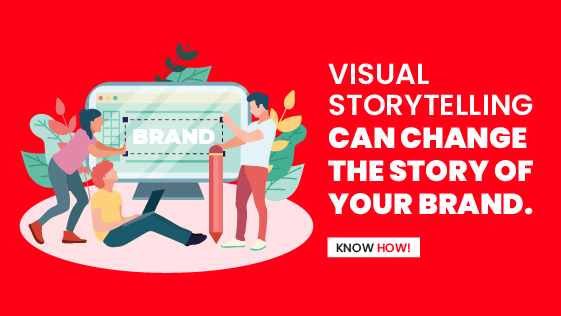 It is said that "a picture is worth a thousand words". Imagine what a well-written video can do. Adding appropriate visuals to your content can make a world of difference. Numerous studies stand proof for the fact that content with images has a higher recall rate. Also, it's important to choose the right visuals. If you are thinking of telling your brand story visually, here are few points that you should know.
World over, visual storytelling is working like a charm for hundreds of brands. And with changing times and technology, the game of visual storytelling has also changed. Today, there are many easy ways to extract data and analyse the performance of your marketing activities. What's better? You don't have to wait too long for the data. As you might know, the advantages are not only after you start your marketing campaign, you can get a bunch of valuable information that will help in designing an effective marketing strategy for your brand. 
How To Make Video Storytelling More Effective?
Don't Tell The Story. Show The Story.
A picture is like a poem without words. Make use of the pictures as much as possible. The most important element of all storytelling is not telling. Limit the text to a bare minimum and let the meaningful images do the talking.
Get Attention In A Jiffy With A GIF.
Have you ever noticed that we usually give more attention to a GIF or a moving image compared to a static image? If you haven't, you should check it now. Using movements in the visuals will help you interestingly tell the story and adds more emotions to it. So pick a GIF over a static image.
If It's Not Complete, It's Not A Story.
Every story will have a structure. There should be a beginning and then there should be an end. If you don't give your story a proper end, then it will be incomplete. Don't drift away from this structure unless the video is part of a bigger idea and there is no other way but to deviate.
Who's The Hero In Your Story?
A story without a hero is tough to relate to. There should be someone with whom the audience will get connected. Someone in whom they can see themselves. Having a character that is relatable will make the job of storytelling easy.
Order, Order, Order. 
'Right order' is one of the most important elements in each piece of communication. The impact and effectiveness of the story depend on the visual hierarchy. For example, the most important part of your brand story should come in the first few seconds. If it's a 3-second visual, then you can keep the important element fixed in the top corner. So, you should keep the order right to ensure that there's no jump/break in the story.
Bring Your Story To Light.
The light in the visual usually explains the mood of the story. While the dark light connotes thriller and horror, the light background stands for peace and happy moments. Making the right use of light in the visuals will help a great deal in making your visual storytelling more impactful.
Give More Colours To Your Story.
Just like how the background adds emotions to the film, the colours too offer a fantastic opportunity to make your visuals more expressive. Adding the right colours to express the right emotions is an art and you must master it to ensure that your story reaches your audience.
Guide The Eyes Of Your Audience.
Your audience will see what you want them to see. It will be your responsibility to make use of movements and other elements to give more emphasis to what's important. And there are numerous pleasant ways to direct your audiences' attention.
It's Time For A Happy Ending.
How you end your story is a make-or-break deal. If you end your story with a memorable image and a great message, the chances that your audience will forget it are very bleak. Meaning, you would have successfully shared a story. So, when you choose visual storytelling to tell the story of your brand, choose your storyteller extremely carefully. Because storytelling is an art and not many can do it effectively. 
People love stories, a well-written and well-made visual story. When you combine strong thought, brilliant writing, and visual storytelling, your content is more likely to inspire action. 
You can do it all by yourself or choose a video production company that is a professional storyteller. Like us. At RedPencil, we tell brand stories effectively. "Practise makes a man perfect" and we are a team of people who are practicing the art of visual storytelling for years. And we are doing it every day. 

Contact us to learn more; visit @redpenciladvertising on Instagram or call us at +91-8197158503 to schedule a complimentary consultation.